Events
Events
---
8th October 2020 dalle 15:00
Reframing the Institution. Film Criticism Across Media and Politics
Zoom Webinar - workshop online — Dal 8th October al 9th October e dal 15th October al 16th October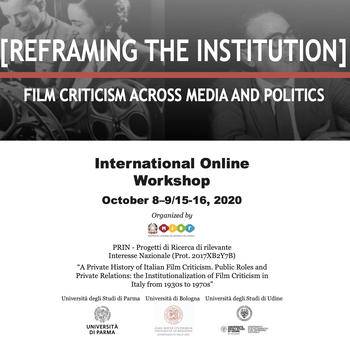 L'Università di Udine, in collaborazione con gli Atenei di Parma e di Bologna, organizza il workshop internazionale online "Reframing the Institution. Film Criticism Across Media and Politics", un'iniziativa a cura del dott. Andrea Mariani che si colloca nell'ambito del progetto PRIN 2017 "Per una storia privata della critica cinematografica italiana. Ruoli pubblici e relazioni private: l'istituzionalizzazione della critica cinematografica italiana tra anni '30 e '70".
Gli incontri si articoleranno in quattro brevi appuntamenti tematici – giovedì 8 e venerdì 9 ottobre, e poi di nuovo giovedì 15 e venerdì 16 dalle 15:00 alle 16:30 – e vedranno la partecipazione di relatori provenienti da tutto il mondo per affrontare il discorso della critica cinematografica partendo da una più ampia prospettiva internazionale, con l'obiettivo di identificare e dare risalto a contesti e concetti chiave.
Il workshop verrà trasmesso sulla piattaforma Zoom Webinar. Per ricevere i link d'accesso è necessario scrivere a princritics@gmail.com e registrarsi con il proprio indirizzo email.
Per ulteriori informazioni si rimanda al sito web dell'evento.