Events
Events
---
19th November 2020 dalle 10:00 alle 12:00
Incontri linguistici 2020
Microsoft Teams - diretta streaming — Il 13th November, il 19th November, dal 25th November al 26th November, il 1st December, il 3rd December e il 10th December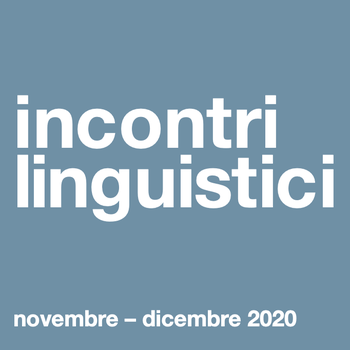 Da ormai alcuni anni il ciclo di conferenze "Incontri linguistici" si pone l'obiettivo di promuovere lo scambio di idee tra esperti sugli aspetti più vari della ricerca sul linguaggio – oltre che di arricchire la proposta formativa per gli studenti triennali, magistrali e di dottorato. La sezione Linguaggi, Comunicazione, Società del DIUM, in collaborazione con il Laboratorio di Comunicazione e Linguistica e con il CERLA (Centro di ricerca sui linguaggi e loro applicazioni), ha organizzato anche per questo autunno una serie di conferenze in cui saranno affrontate questioni che toccano diversi ambiti dell'indagine linguistica. I temi trattati coprono un ventaglio abbastanza vasto della ricerca, spaziando da questioni sociolinguistiche, a tematiche legate al cognitivismo ed alla linguistica computazionale, senza tuttavia trascurare tematiche relative alla storia della linguistica e alla glottologia. Gli incontri seguiranno il seguente calendario: 
venerdì 13 novembre, 10:00–12:00
Michele CORTELAZZO (Università di Padova)
COVID-19. Uno "stress-test" per la comunicazione istituzionale e la sua lingua
Link alla videoconferenza su Teams
giovedì 19 novembre, 10:00–12:00
Maria Carmela BENVENUTO (Sapienza – Università di Roma)
Tra grammaticalizzazione e ricostruzione: il caso delle espressioni di possesso in persiano antico
Link alla videoconferenza su Teams
mercoledì 25 novembre, 15:00–17:00
Alessandro LENCI (Università di Pisa)
Metodologie computazionali per la linguistica
Link alla videoconferenza su Teams
giovedì 26 novembre, 14:00–16:00
Raphael BERTHELE (Université de Fribourg/Universität Freiburg)
Descriptions of self-propelled and caused motion events. Empirical investigations and intra- and cross-language variability
Link alla videoconferenza su Teams
martedì 1 dicembre, 14:00–16:00
Giancarlo SCHIRRU (Università di Napoli "L'Orientale")
Ascoli e gli irredenti
Link alla videoconferenza su Teams
giovedì 3 dicembre, 14:00–16:00
Maria GARRAFFA (Heriot-Watt University, Edinburgh)
Il cervello bilingue: il ruolo delle lingue regionali
Link alla videoconferenza su Teams
giovedì 10 dicembre, 8:00–10:00
Massimo CERRUTI (Università di Torino)
Evoluzione dei repertori e sviluppo di nuove varietà, in Italia e in Europa
Link alla videoconferenza su Teams
Gli "Incontri linguistici" riprendono una lunga "tradizione" introdotta dal caposcuola degli studi linguistici a Udine, Roberto Gusmani, che nel 1973 aveva avviato con lo stesso titolo una serie di attività di studio e di ricerca, in seguito (nel 1974) tradottasi nell'omonima rivista.  Le conferenze aperte a tutti gli interessati e indirizzate principalmente a studenti, dottorandi, assegnisti, docenti, si terranno da remoto tramite la piattaforma Microsoft Teams. Per partecipare sarà sufficiente collegarsi al link posto sotto ogni incontro.