Events
Events
---
18th June 2020 dalle 17:30 alle 19:00
Studying Film and TV Actors (and Their Intermediaries). A Cultural and Industrial Approach
Zoom e Facebook - workshop online — Il 18th June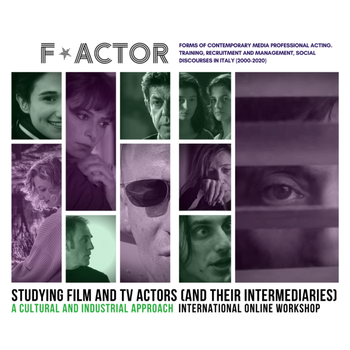 Giovedì 18 giugno si terrà il seminario internazionale "Studying Film and TV Actors (and Their Intermediaries). A Cultural and Industrial Approach", organizzato nell'ambito del PRIN F-ACTOR. Forme dell'attorialità mediale contemporanea. Formazione, professionalizzazione, discorsi sociali in Italia (2000–2020) e patrocinato dalla Consulta Universitaria del Cinema e da NECS. European Network for Cinema and Media Studies.
Il workshop sarà l'occasione per presentare i risultati preliminari del progetto, che mira ad analizzare l'evoluzione del ruolo dell'attore nel contesto pluristratificato dei media italiani dell'ultimo ventennio, in un dialogo che coinvolgerà diversi studiosi da tutto il mondo.
All'incontro – trasmesso live su Zoom e sulla pagina Facebook di ConsultaCinema – parteciperanno Petr Szczepanik (Università Karlova, Praga), Dana Renga (The Ohio State University), Paul McDonald (King's College London), Catherine O'Rawe (University of Bristol), Mariapaola Pierini (Università di Torino), Emiliano Morreale (Università La Sapienza), Luca Barra (Università di Bologna) e Francesco Pitassio (Università di Udine).