Events
Events
---
15th October 2021 dalle 15:00
Be Brave, Be Beautiful
Udine, via Tomadini, 30 - Polo economico-giuridico, Sala Tomadini — Il 15th October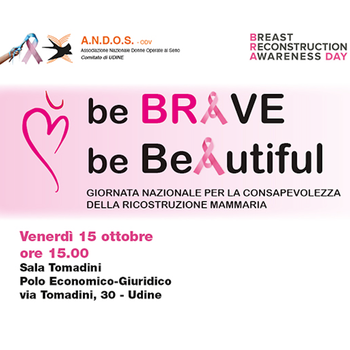 In occasione del Breast Reconstruction Awareness Day, la giornata internazionale per la consapevolezza della ricostruzione mammaria (20 ottobre), il Comitato di Udine dell'A.N.D.O.S. organizza e promuove il convegno Be Brave, Be Beautiful. L'iniziativa si rivolge soprattutto alle donne colpite da tumori al seno e costrette a ricorrere a interventi demolitivi, ma si propone di aumentare la consapevolezza generale sulle diverse possibilità che la chirurgia ricostruttiva offre per riappropriarsi del proprio corpo così com'era.
L'evento sarà ospitato venerdì 15 ottobre presso il Polo Economico-Giuridico dell'Università di Udine, con inizio alle ore 15:00. Tra gli ospiti invitati ci sarà anche il prof. Alessandro Del Puppo, docente di Storia dell'arte contemporanea presso il DIUM, che presenterà il tema Bello ideale e bello reale (ore 15:50).
Si segnala inoltre che mercoledì 20 ottobre il Reparto di Chirurgia Plastica dell'ASU FC aprirà al pubblico il proprio ambulatorio per fornire maggiori informazioni sulla ricostruzione mammaria.