Events
Events
---
8th March 2021 dalle 15:00 alle 17:00
Scuola di Specializzazione in Beni storico-artistici – ciclo di conferenze
Microsoft Teams - conferenze online — Dal 8th March al 12th March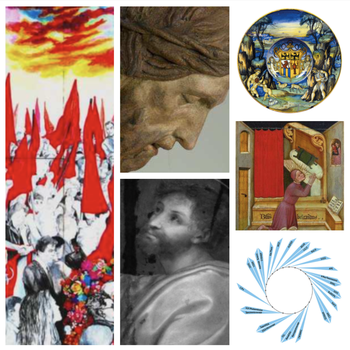 La Scuola di Specializzazione in Beni storico-artistici propone anche per il mese di marzo una settimana didattica ricca di appuntamenti che, come di consueto, si rivolgono non solo agli studenti, ma anche a tutti gli interessati.
Sei relatori di grande spessore a livello nazionale e internazionale si susseguiranno nel corso di altrettanti incontri, secondo il seguente calendario:


8 MARZO 2021, ore 15:00–17:00
Prof. Timothy Wilson (University of Oxford e Ashmolean Museum, Department of Western Art)
Maiolica italiana e regali fra donne (1480–1600)
9 MARZO 2021, ore 11:00–13:00
Prof. Juan Vicente García Marsilla (Universitat de València)
Devozioni private. La diffusione dell'immagine nello spazio domestico (XIV–XV sec.)
9 MARZO 2021, ore 15:00–17:00
Prof. Franco Zanini (Elettra Sincrotrone Trieste)
Storia dell'arte e grandi infrastrutture di ricerca
10 MARZO 2021, ore 16:00–18:00
Prof. Fabio Belloni (Università degli Studi di Torino)
Un quadro di Renato Guttuso: I funerali di Palmiro Togliatti
11 MARZO 2021, ore 15:00–17:00
Dott.ssa Stefania Ventra (Archivio del Moderno)
La romana Accademia di San Luca e le sue collezioni
12 MARZO 2021, ore 14:00–16:00
Dott.ssa Francesca Meneghetti (Funzionario Storico dell'Arte – Ravenna e provincia)
Crocifissi lignei dei Servi di Maria. Arte, devozione e conservazione nelle confraternite tra XIV e XVII secolo


Le conferenze verranno trasmesse sulla piattaforma Teams. Per partecipare o per ulteriori informazioni si potrà contattare Barbara Melilla (barbara.melilla@uniud.it).