Water and Gods of Assyria
Water and Gods of Assyria
Rescue Archaeology on the Assyrian canal and reliefs of Faida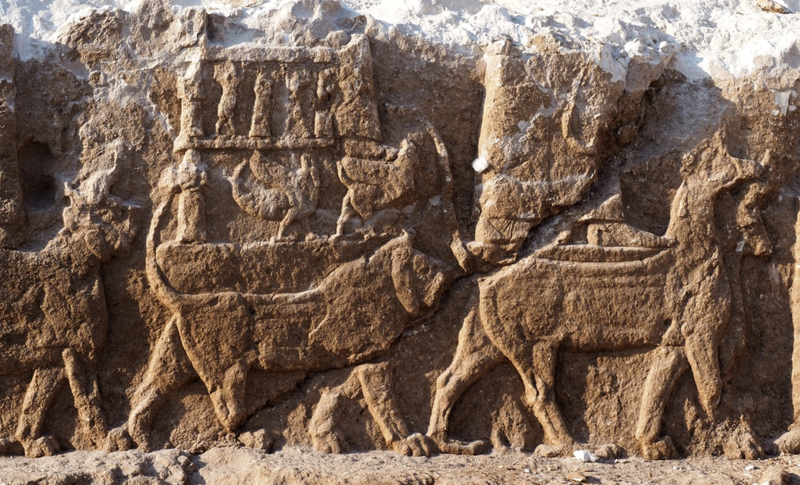 Started in 2019, Water and Gods in Assyria (Acqua e dei d'Assiria, ADA) is a project for research, preservation, protection and promotion aiming at saving the extraordinary archaeological Assyrian complex of Faida (Duhok, Autonomous Region of Kurdistan, Iraq) from destruction, as well as bringing it fully to light and promoting it. At about 20 km south from Duhok, at the foot of a calcareous hill, an Assyrian king (probably Sargon II, 720-705 BC) ordered to dig an almost 7 km long irrigation canal. On the rock constituting the eastern side of this canal at least ten bas-relief panels were engraved, representing the monarch at the extremity of a procession of seven statues of deities standing on bases laid on the back of symbolic animals.
The group of reliefs currenlty discovered by the joint italian-kurdish mission of the University of Udine and the Directorate General of Antiquities of Duhok - and the ones which are surely still buried, waiting to be brought to life in the course of future excavation campaigns - represent an extraordinary complex of stone art realized for the political and religious celebration of the construction of the canal promoted by the Assyrian king.
The site at Faida is however highly threatened by a series of production plants belonging to the neighbouring village, as well as by illegal excavations and vandalism. The project ADA aims at unearthing the whole series of Assyrian reliefs along the canal, documenting and restoring them, and drawing up a plan for protection, promotion and management of this unique archaeological site in the Middle East. The historical and archaeological relevance of the Faida canal and its rock art is significant especially for the fact that the region of Duhok hosts the greater part of the extensive irrigation system built by king Sennacherib in order to bring water to the inland of the last capital of the Assyrian empire, Niniveh (modern-day Mosul). The Faida canal and its reliefs, which constitute probably an important infrastructure anticipating the larger hydraulic complex completed by Sargon's son and successor, Sennacherib, will be excavated, studied, protected and promoted within the framework of the project Land of Niniveh of the University of Udine, active since 2012, with the purpose of managing the monumental irrigation system realized by Sennacherib, the associated rock reliefs of Matlai, Shiro Maliktha and Khinis, and the Jerwan aqueduct.
Research lines
Archaeological excavation
Archaeology of ancient irrigation systems
Visual arts
Restoration
Protection and promotion of the cultural heritage in post-conflict regions
Digital Archaeology