Regional Archaeological Project "Land of Niniveh" (LoNAP) – Excavation Campaign in Kurdistan 2017–2018–2019
Regional Archaeological Project "Land of Niniveh" (LoNAP) – Excavation Campaign in Kurdistan 2017–2018–2019–2021
Funders: University of Udine, Ministry of Foreign Affairs and International Cooperation, Friuli Venezia Giulia Region, Fondazione Friuli, Aliph Foundation, Gerda Henkel Stiftung, Ministry of University and Scientific Research, AICS (Italian Agency for Cooperation and Development), Lab GIS of University Roma Tre, ArcheoCrowd, 3DTarget and 3Dflow
Scientific Director: Prof. Daniele Morandi Bonacossi
Research Unit: Prof. Daniele Morandi Bonacossi, Prof. Marco Iamoni, Dr. Francesca Simi, Dr. Alberto Savioli
Website: Land of Niniveh Archaeological Project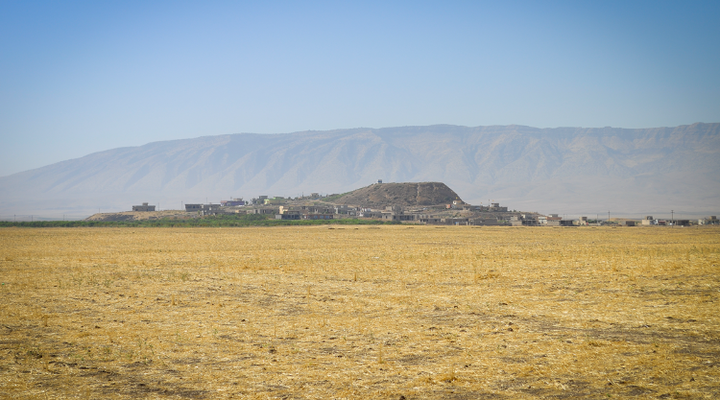 The research group works within the framework of the Land of Nineveh Archaeological Project (LoNAP) is a departmental project (PRID) which aims at investigating a large area (about 3000 km2) in the province of Duhok, in the Kurdistan region of Iraq, through the use of various techniques, such as intensive and extensive surface surveys, limited geoarchaeological surveys, sampling for soil analysis, archaeological excavation.
The LoNAP is a multidisciplinary project following four main research lines:
the study of the settlement patterns in the hinterland of Niniveh from the Palaeolithic to the Islamic Age;
the reconstruction of the landscape and the ancient natural environment of the region. The archaeological surveying activities is supported by the systematic sampling of the so-called palaeoenvironmental archives, in order to develop a database of information about the natural environment and the climate. This will help in determining the characteristics of the territory during the periods examined, and will thus allow the understanding of the role played by human settlements in the main transformations that affected the ancient landscape (i.e. intensive farming and environmental deterioration);
the excavation of the archaeological site Tell Gomel, with particular attention to the necropolis of the Middle Bronze Age and the Iron Age. By concentrating the research on two areas, the intention is to investigate the different phases of occupation of the biggest site of the region, and therefore to provide a guiding sequence (still lacking) for the stratigraphic phases and the material culture pertaining to the Bronze and the Iron Age. The role of Gomel is indeed crucial not only for LoNAP, but also for the whole region of the Upper Tigris in Iraq;
the study and documentation of the hydraulic system build by the Assyrian king Sennacherib. LoNAP aims at reconstructing with high precision the canalisation system realised at the end of the 8th century BC, by defining the routes, the significance and the impact of this system on the local agricultural productivity.