Arte, pubblico e coronavirus – di Linda Borean
ELZEVIRO – 3 aprile 2020
Arte, pubblico e coronavirus
di Linda Borean
---
"Elzeviro" è una nuova iniziativa dipartimentale, un esperimento che ha lo scopo di aumentare la circolazione delle idee e il confronto degli argomenti all'interno del Dipartimento. Non ci sarà periodicità, né scelta prefissata dei temi, purché di interesse generale: è una pagina bianca messa a disposizione di tutti, sulla quale possiamo tutti intervenire.
Le proposte di contributo devono essere inviate a: sitowebde.dium@uniud.it.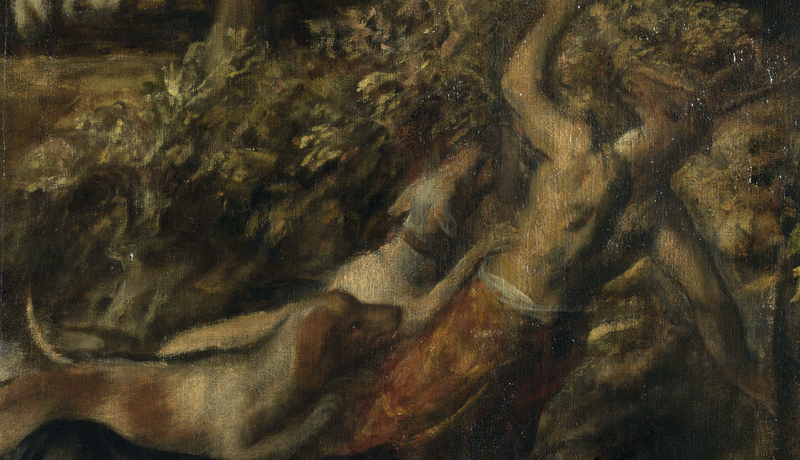 Lo scorso 16 marzo alla National Gallery di Londra veniva inaugurata la mostra Titian. Love, Desire and Death. Attesa da anni, frutto di accurate ricerche scientifiche e, soprattutto, di una complicata e delicata tessitura di relazioni diplomatiche tra musei internazionali. Una di quelle mostre cosiddette 'imperdibili' per gli storici dell'arte, perlomeno per quanti si interessano alla pittura rinascimentale italiana, ma anche un'occasione unica per il pubblico che avrebbe potuto ammirare lo straordinario ciclo di dipinti mitologici licenziati da Tiziano per Filippo II di Spagna a metà Cinquecento. Nella mostra londinese sono riunite per la prima volta, dopo secoli, quelle poesie – così le aveva definite lo stesso Tiziano – destinate a ornare un camerino del sovrano e successivamente separate, con la complicità della politica e del mercato, tra Boston, Madrid e Londra. Covid-19 ha imposto la chiusura della National Gallery il 19 marzo, a soli tre giorni dall'avvio dell'esposizione. Per Matthias Wivel, uno dei curatori, le tele di Tiziano si sono ritrovate a dialogare l'una con l'altra, protette dal silenzio e dalla quiete ma restando al tempo stesso in search of an audience.
Mai come in questi giorni siamo bombardati dalla proattività comunicativa dei musei, con iniziative pressoché quotidiane di visite virtuali e video divulgati attraverso i canali social Facebook e Instagram. In realtà si tratta, nella maggior parte dei casi, di esperienze di disseminazione e accessibilità a distanza praticate da tempo, peraltro non senza ostacoli di natura tecnica, oltre che concettuale. Covid-19 ha impresso un'accelerazione a tale fenomeno che potrà apparire, a seconda dei punti di vista, preoccupante, per molteplici ragioni, oppure efficace sul piano educativo e della diffusione della conoscenza delle opere d'arte e della loro storia.
Nelle poesie spagnole Tiziano mette in scena un'interpretazione personale e meditata delle relazioni tra gli dei e gli umani, irrimediabilmente contraddistinte, per lui, da un risvolto tragico. Nella Morte di Atteone, l'ultima delle poesie, rimasta peraltro nello studio dell'artista colpito dalla peste nell'agosto del 1576, un'implacabile Diana condanna a una morte crudele il giovane cacciatore, reo di averla sorpresa nella sua grotta durante il bagno: trasformato in cervo, Atteone sarebbe stato sbranato dai suoi stessi cani. Il suo urlo non è solo un tocco di pennello. È una sensazione. Da provare in diretta.
 LEGGI ANCHE...
Il Tiepolo impacchettato
di Linda Borean

Nell'ottobre del 1929 le pagine della cronaca giudiziaria del Giornale del Friuli furono monopolizzate da una vicenda che segnò la storia e l'aspetto di Palazzo Caiselli... (continua)




Damnatio statuarum
di Matteo Cadario

Nelle recenti discussioni sulla rimozione di statue dai luoghi pubblici si è evocata spesso la pratica romana della damnatio memoriae... (continua)




Un nuovo mondo?
di Francesco Pitassio

Uno dei libri più citati in queste settimane è Cecità (1995) di José Saramago – grande è il mio debito verso chi me lo fece scoprire in tempi migliori... (continua)