Smart working / Lavoro agile – di Raffaella Bombi
ELZEVIRO – 16 MARZO 2020
Smart working / Lavoro agile
di Raffaella Bombi
---
"Elzeviro" è una nuova iniziativa dipartimentale, un esperimento che ha lo scopo di aumentare la circolazione delle idee e il confronto degli argomenti all'interno del Dipartimento. Non ci sarà periodicità, né scelta prefissata dei temi, purché di interesse generale: è una pagina bianca messa a disposizione di tutti, sulla quale possiamo tutti intervenire.
Le proposte di contributo devono essere inviate a: sitowebde.dium@uniud.it.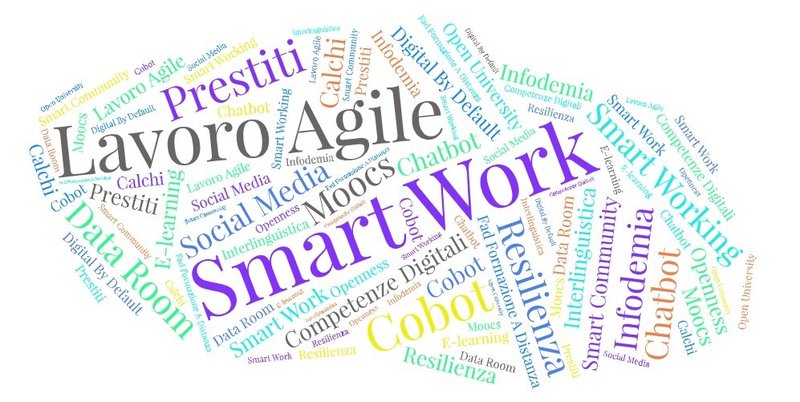 Chi si occupa di interferenze linguistiche e di contatti anglo-italiani non può non rilevare come lo spazio comunicativo attuale registri un'iperpresenza di smart working, diventata parola-guida della comunicazione istituzionale (o angloburocratese). Inclusa, peraltro, in una costellazioni di voci tra cui smart city, smart community, smart learning, smart card, smart robot, smartphone e smartwatch, che l'Oxford English Dictionary definisce «any of various watches equipped with a microchip that extends its functionality beyond timekeeping; […] a mobile telecommunications device designed to be worn on the wrist, typically with a touch screen display».
Con smart working si intende una nuova modalità lavorativa flessibile che impiega strumenti telematici e tecnologie digitali, in grado di consentire alle persone di operare da remoto, o comunque non nella sede fisica di lavoro, con impatti evidenti e importanti. Smart working ha attirato subito l'attenzione del gruppo di lavoro INCIPIT attivo presso l'Accademia della Crusca che, avendo «lo scopo di monitorare i neologismi e forestierismi incipienti», ha proposto la sostituzione del prestito con lavoro agile ritenuto «un perfetto equivalente, con il vantaggio della maggiore trasparenza e […] dopo l'incertezza iniziale "smart working" sta perdendo terreno e lascia il posto al trasparente ed espressivo 'lavoro agile'» (Comunicato stampa Accogliamo con piacere il "lavoro agile").
Gli eventi, in particolare anche quelli nei quali siamo coinvolti, sono acceleratori per la diffusione di neologismi in grado di intercettare nuovi bisogni espressivi. Nel lessico giornalistico si nota una complessa e intrigante situazione. Emerge la concorrenza tra il prestito smart working (con la variante smart work) e il calco strutturale lavoro agile che si contendono gli spazi comunicativi: troviamo, infatti, non solo il prestito che è accompagnato dal calco in funzione esplicativa («Lo smart working, cioè il lavoro agile»), ma anche il calco lavoro agile, con la variante lavoro da casa, al quale viene affiancato il prestito con lo scopo di chiarire il valore della replica italiana («lavoro agile, il cosiddetto smart working»), il calco parziale (lavoro smart) e le due rese affiancate «insieme al regolamento su smart working o lavoro agile».
Smart si apre così a una nuova identità essendo usato in riferimento all'idea di connettività e di interazione telematica tra persone e strutture. Ciò deporrebbe a favore del successo dell'anglicismo, in quanto la forma sostitutiva agile farebbe perdere la pregnanza comunicativa specifica del prestito smart, spostando il focus sull'idea della flessibilità. È però anche chiaro che agile, con questa inedita semantica, sta conquistando terreno, vuoi per la sua fluidità, vuoi per l'espressività fonosimbolica: oggi troviamo, sulla stampa, altri calchi quali lavoratore agile per smart worker e scuola agile per smart school. Da agile viene poi formato, con questo non scontato valore, agilità e in modalità agile, che convive con in modalità smart working, il tutto a scapito della resa di smart con intelligente («lo smartworking, meglio sarebbe dire "lavoro intelligente"») che invece pare essersi istituzionalizzata per smart city, la città intelligente.
Insomma il consiglio della Crusca ha avuto successo, dimostrando forse che il ruolo dei linguisti, a volte, incide sull'uso delle parole del nostro tempo.
 LEGGI ANCHE...
Il luogo più pericoloso del mondo
di Andrea Gardi

Chi pensa al lavoro di uno studioso di area umanistica ritiene che sia un'occupazione assolutamente tranquilla... (continua)

Resistenza e resilienza
di Elisabetta Borgna

Nel linguaggio corrente la parola resilienza è molto utilizzata e ha superato in popolarità la resistenza... (continua)




Superman/woman
di Giuseppina Azzarello

«È verità universalmente riconosciuta» che gli esseri umani, e specialmente le donne, si trovano ogni giorno a gestire contemporaneamente più fronti... (continua)