Il Papa e il vuoto – di Emanuela Colombi
ELZEVIRO – 8 MAGGIO 2020
Il Papa e il vuoto
di Emanuela Colombi
---
"Elzeviro" è una nuova iniziativa dipartimentale, un esperimento che ha lo scopo di aumentare la circolazione delle idee e il confronto degli argomenti all'interno del Dipartimento. Non ci sarà periodicità, né scelta prefissata dei temi, purché di interesse generale: è una pagina bianca messa a disposizione di tutti, sulla quale possiamo tutti intervenire.
Le proposte di contributo devono essere inviate a: sitowebde.dium@uniud.it.




Proprio nel momento in cui faceva il giro del mondo l'iconica immagine di papa Francesco, solo nel vuoto assordante di Piazza San Pietro durante la benedizione Urbi et orbi, stavo discutendo con i miei studenti il significato delle fantasmagoriche miniature che caratterizzano i manoscritti biblici insulari. Coincidenza suggestiva, perché le nostre riflessioni cercavano di andare oltre l'ovvio impatto estetico di tali manufatti, ma anche oltre l'intuibile valore di ausilio alla comunicazione rappresentato dalle immagini.
Quello che ci sforzavamo di cogliere era soprattutto un processo, una trasformazione, un adattamento. Il segreto di un movimento religioso – il cristianesimo – che si è imposto in forza di due paradigmi fondamentali: la comunicazione e la flessibilità, spesso declinati insieme. Una comunicazione da subito essenziale alla sopravvivenza, alla creazione di un'identità cristiana assai poco evidente nei testi sacri che venivano proposti. I primi cristiani non possono permettersi di divulgare informazioni contraddittorie, devono crescere univoci: per questo innescano una vera rivoluzione culturale, che rende partecipi anche gli illitterati della Parola scritta, attraverso la lettura e la predicazione. E si organizzano: il Pastore di Erma, scritto del II secolo, contiene esplicite indicazioni per la sua diffusione, e il risultato è che in qualche decennio ne troviamo attestazioni (papiracee e letterarie) da Roma alla Gallia all'Egitto. Certo, la flessibilità non è senza prezzo, è una questione di scelte. Per sopravvivere e comunicare, i cristiani rinunciano alla correttezza del Libro: più copie vengono trascritte, più errori si producono.
E nell'impatto con culture radicate nell'esperienza visiva e non verbale, per sopravvivere e comunicare la diffusione della Parola rinunciano anche al valore esclusivo della parola, letta o ascoltata, che richiedeva fede e concentrazione più intense. Si adattano a una comunicazione vincente, funzionale, e al tempo stesso ambiguamente concorrente: quella dell'immagine.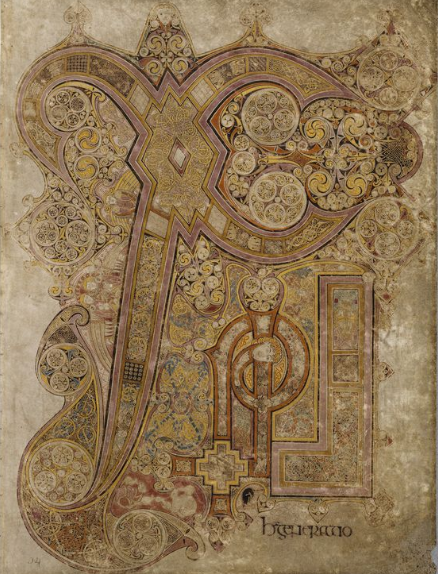 Book of Kells (Dublin, Trinity College, 1.A.16, f. 34r)
Dalla riconversione dei riti pagani alla parafrasi biblica alle messe beat, la storia della comunicazione cristiana è costellata di esempi di flessibilità, adattamento e scelta. L'ultimo il 27 marzo scorso: per sopravvivere e comunicare, la chiesa rinuncia – non senza resistenze interne, che pure ci sono sempre state – a un aspetto fino a ieri imprescindibile: il corpo, i corpi che materializzano l'ekklesìa, cioè l'assemblea. E ancora una volta la flessibilità e l'adattamento inclusivo risultano vincenti: la sapiente regia filmica del Centro Televisivo Vaticano, tra primissimi piani e campi lunghissimi, nell'atmosfera densa del farsi sera punteggiata dalle luci dei bracieri e da quelle blu delle gazzelle, ipnotizza la nostra concentrazione, che oggi meglio reagisce a una dimensione non solo visiva ma anche dinamica e scenografica. Ci concentriamo sull'uomo solo che vediamo come vox clamantis in deserto tra ammirazione e tenerezza, e non visualizziamo dall'altra parte delle telecamere noi stessi come parte dell'ekklesìa virtuale che si è creata, composta da oltre 11 milioni di persone collegate in mondovisione. Ed è subito hashtag, virale: siamo #tuttinellastessabarca.
La canzone: Jesus Christ Superstar, Overture (dir. A. Dogget), 1970
Il film: T. Moore, The Secret of Kells, Francia Belgio Irlanda 2009
La lettura: Erma, Il Pastore, ed. M. Simonetti, in Seguendo Gesù. Testi cristiani delle origini, 2, Milano 2015, p. 221-489.
 LEGGI ANCHE...



Per un elogio degli uomini-formica
di Chiara Battistella

In questi giorni inquieti e movimentati, anche i classici greci e latini sembrano essere riemersi dall'oblio, a cui sono stati relegati da tempo... (continua)

Pestilenza e cittadinanza
di Elena Fabbro

Se in questi giorni rileggiamo Tucidide e la sua descrizione della peste che colpì Atene nel 430 a.C., la nostra prima sensazione... (continua)




Un nuovo mondo?
di Francesco Pitassio

Uno dei libri più citati in queste settimane è Cecità (1995) di José Saramago – grande è il mio debito verso chi me lo fece scoprire in tempi migliori... (continua)