Il cervello di Carné. Letterario 1941-1943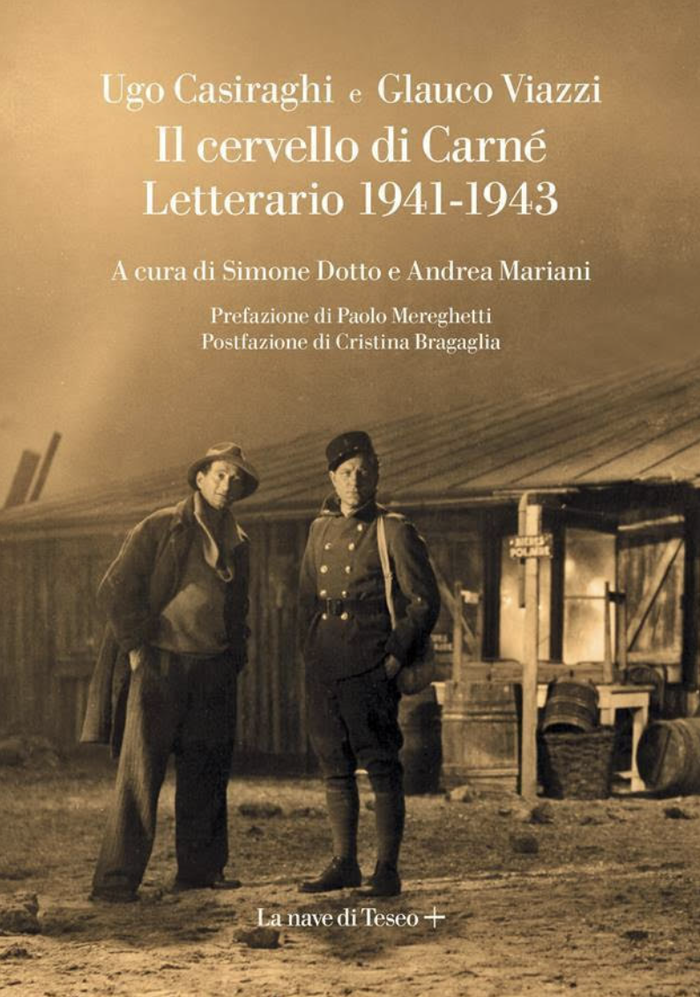 Il cervello di Carné. Letterario 1941-1943
---
di Ugo Casiraghi e Glauco Viazzi
Curatore/i:

Simone Dotto, Andrea Mariani

Editore:

La nave di Teseo

Luogo:

Milano

Anno di pubblicazione:

2021

ISBN: 9788893956000
Il cervello di Carné. Letterario 1941-1943
---
di Ugo Casiraghi e Glauco Viazzi
Curatore/i:

Simone Dotto, Andrea Mariani

Editore:

La nave di Teseo

Luogo:

Milano

Anno di pubblicazione:

2021

ISBN: 9788893956000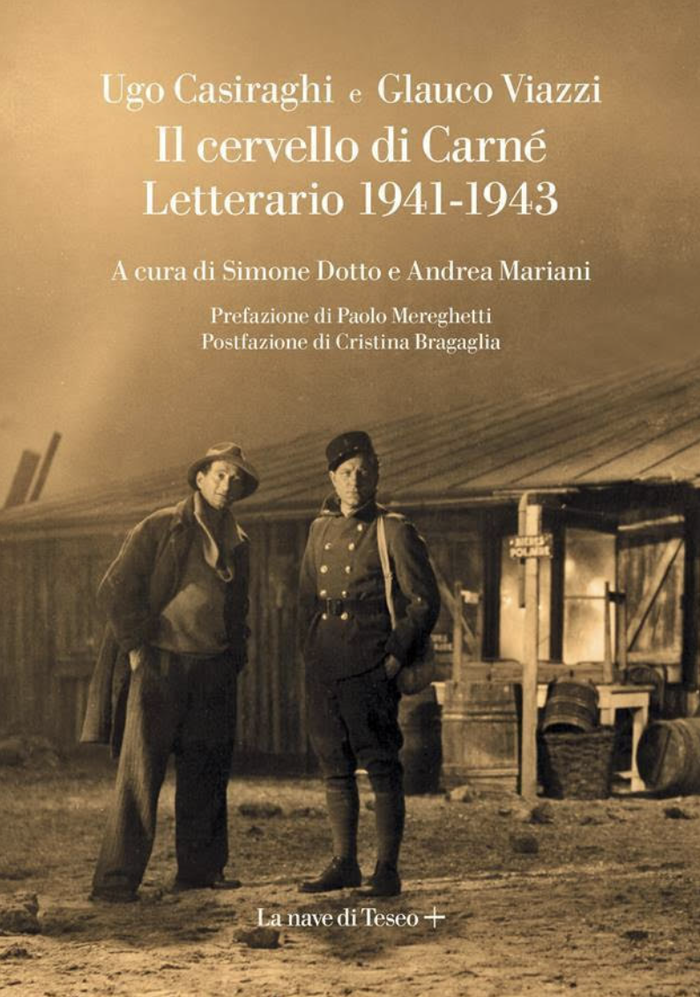 Queste continue parentesi, e questa prosa saltellante ed equivoca, vi possono dare un'idea della varietà, della vastità e della prepotenza che assume in me la espressione dei pensieri quando molte cose ed esperienze son, nel cervello, costruite. In fondo, è solo su questi dubbi, incertezze, decisioni e lampi che si può basare una vera vita dell'uomo.
Ugo Casiraghi a Glauco Viazzi e ai genitori
Bari, 27 giugno 1941
Il cervello di Carné rende omaggio a una cultura del cinema che prende forma negli anni più duri della Seconda guerra mondiale. Le lettere qui raccolte provengono dall'archivio personale di Ugo Casiraghi – futuro critico cinematografico de l'Unità – ed erano destinate all'amico Glauco Viazzi, riconosciuto critico letterario nel dopoguerra.
Siamo negli anni del conflitto e i due giovani sono letteralmente tenuti in vita dalla passione per il cinema, tra esami da sostenere, vicende personali e la guerra, in casa e al fronte.
Il "cervello" del titolo è un omaggio alla cultura e al cinema francese, strenuamente cercato nelle sale cinematografiche fatiscenti di una Milano sventrata dai bombardamenti. Una cultura e un cinema presenti ossessivamente nelle lettere, anche oltre i dettami ideologici e le censure di guerra. Il cervello di Carné è anche la metafora della macchina razionale che costruisce il pensiero critico, la partitura letteraria e il senso delle parole nelle lettere che leggerete. Tra le righe si snoda un pensiero ricco, complesso, talvolta involuto, come quello di intelligenze e culture nella stagione più fertile. È la vivacità impetuosa e scomposta che precede la primavera, nell'ultimo scorcio di un lungo e rigido inverno. Sono gli ultimi anni del Fascismo.
Queste lettere portano alla luce la dimensione intima di due intellettuali da giovani, un "dietro le quinte" che spesso svela i meccanismi della critica cinematografica, la costruzione collettiva di articoli e riflessioni sul cinema che sono già le prime luci del Neorealismo.
La raccolta e la trascrizione delle lettere è frutto del lavoro di ricerca svolte nell'ambito del progetto 'La critica cinematografica italiana tra fascismo e repubblica. L'archivio privato di Ugo Casiraghi', coordinato da Andrea Mariani per il DIUM in collaborazione con la Mediateca Ugo Casiraghi e sostenuto dalla Regione Autonoma Friuli-Venezia Giulia. La pubblicazione ha inoltre contato su un ulteriore sostegno da parte dell'Associazione Palazzo del Cinema - Hiša filma, del 40° Premio "Sergio Amidei" e dell'Università degli studi di Parma, capofila del progetto PRIN Per una storia privata della critica cinematografica italiana al quale partecipano anche gli atenei di Bologna e di Udine".
SIMONE DOTTO è ricercatore all'Università degli studi di Udine, dove insegna Storia e tecnica della televisione e dei nuovi media al DAMS. Si occupa di media sonori e culture dell'ascolto e di cinema e cultura industriale. È l'autore di Voci d'archivio. Fonografia e cultura dell'ascolto nell'Italia tra le due guerre (2019).
ANDREA MARIANI insegna Teoria dei media e dei nuovi media presso l'Università degli Studi di Udine. Nello stesso ateneo conduce ricerche sulle pratiche cinematografiche sperimentali nell'Italia degli anni tra le due guerre. Ha pubblicato saggi e articoli su volumi e riviste nazionali e internazionali. È redattore delle riviste "Bianco e nero. Rivista quadrimestrale del Centro Sperimentale di Cinematografia", "L'avventura. International Journal of Italian Film and Media Landscapes" e "Cinergie. Il cinema e le altre arti". Ha curato i volumi The Archive/L'Archivio (2012), Il cinema si impara? (2013) e At the Borders of (Film) History (2015).