Effemeridi del film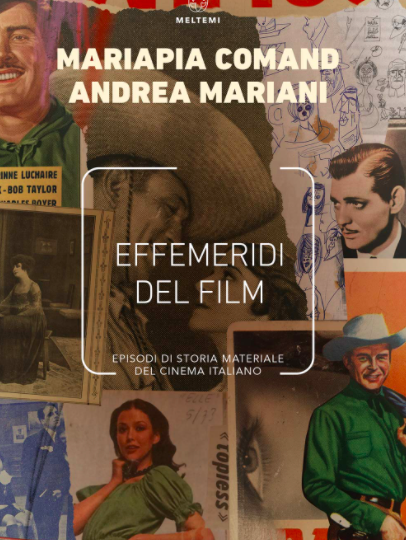 Effemeridi del film
---
Episodi di storia materiale del cinema italiano
Autore/i:

Mariapia Comand, Andrea Mariani

Editore:

Meltemi

Luogo:

Milano

Anno di pubblicazione:

2021

ISBN: 9788855191449
Effemeridi del film
---
Episodi di storia materiale del cinema italiano
Autore/i:

Mariapia Comand, Andrea Mariani

Editore:

Meltemi

Luogo:

Milano

Anno di pubblicazione:

2021

ISBN: 9788855191449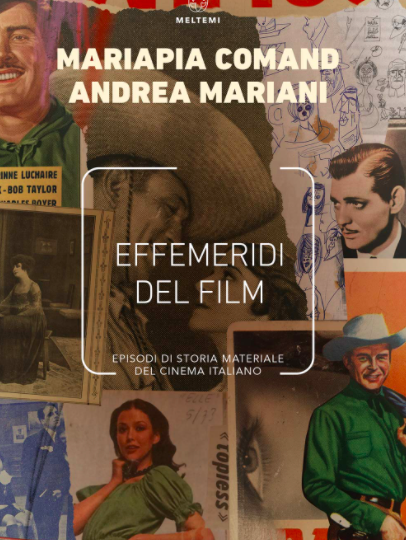 Effemeridi del film si occupa dei cosiddetti "ephemera" – documenti, perlopiù di carta, spesso prodotti sulla spinta di un'urgenza emotiva, intellettuale o artistica, solitamente destinati a una comunicazione transitoria – come fonte di storia del cinema. Il volume offre una serie di analisi di oggetti culturali originali (album di ritagli, scrapbooks, cigarette cards, ecc.) e, attraverso questi casi di studio, sviluppa una riflessione teorica e metodologica intorno alla nozione di "ephemera", muovendo da alcuni studi pionieristici nel campo dei film studies e dalle ascendenze del "nuovo materialismo" nel campo della storia dei media e dell'archeologia dei media per approdare a un'accezione ampia del termine, comprensiva di paratesti e "minor media".
Prendendo in esame fondi archivistici privati e istituzionali, materiali e miscellanee provenienti da collezionisti e da archivi, il libro getta un ponte tra la storia dei film e il contesto nei quali i film sono mostrati e visti, il reticolo di discorsi che avvolge produzione e consumo, il ruolo del cinema nella vita quotidiana e il suo spazio nelle vite individuali.
MARIAPIA COMAND è professore ordinario all'Università degli Studi di Udine, dove insegna Caratteri del cinema italiano e Sceneggiatura. Ha diretto numerosi progetti di ricerca, tra i quali Ephemera. Scrapbook, fan mail e diari delle spettatrici nell'Italia del regime. Ha scritto e curato volumi dedicati al cinema italiano e alla sceneggiatura, quali Il sorpasso (2002), Commedia all'italiana (2010), Sulla carta (2006) e I personaggi dei film (2012). Dirige il Digital Storytelling Lab dell'Università degli Studi di Udine. È parte del comitato direttivo della rivista «L'avventura. International Journal of Italian Film and Media Landscapes». 
ANDREA MARIANI è ricercatore all'Università degli Studi di Udine, dove insegna Teoria e critica dei media. Si occupa di archeologia dei media, di storia e teoria del cinema tra le due guerre e di digital storytelling. È responsabile scientifico dei progetti del Digital Storytelling Lab dell'Università degli Studi di Udine. Dirige il progetto PRID I destini di un format. Politiche e culture del passo ridotto in Italia (1944-1956) ed è parte dei progetti: PRIN 2017 Per una storia privata della critica cinematografica italiana; Misti-Global Seed Sensing Dolce Vita, in collaborazione con il MIT di Boston; SSHRC International Amateur Cinema Between the Wars (1919-1939). Tra le sue curatele, Archeologia dei media (con G. Fidotta, 2018), Ephemera (con M. Comand, 2020) e Prassi e cinema (2020). È autore della monografia Gli anni del Cineguf (2017).